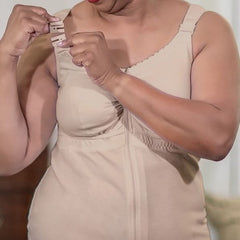 Zip-Front Post Surgery Camisole - Beige
*SPECIAL PROMO Price and FREE SHIPPING ON THIS ITEM*
This camisole package includes 2 - drain pockets and 2 - soft puffs and is a comfortable item to wear right after surgery.
FREE SHIPPING with Canada Post Expedited service.
-------------------------
Mastectomy Post Surgery Camisole with Zipper Front Closure by ABC (American Breast Care)
Size Range: Small, Medium, Large, XLarge, 2XL, 3XL, 4XL (see Size guide below)
 Post-surgical camisole by ABC features a zipper front and detachable shoulder clasp for easy step-in entry
For added comfort, zipper features a comfort strip pad to prevent zipper irritation
Velcro attachable pouches fasten to the interior elastic band for drain management
Two Velcro attachable drain pouches and two triangle puff leisure forms are included with every camisole
Ideal for use immediately following a mastectomy or anytime drain management is needed
Fabric: Body: 94% Cotton, 6% Spandex; Pockets: 94% Cotton, 6% Spandex
Size Guide:
Small fits band size: 34
Medium fits band size: 36
Large fits band size: 38
XLarge fits band size: 40
2XL fits band size: 42
3XL fits band size: 44
4XL fits band size: 46
Sue's Note on sizing: You many want to order a size up from your current band size to give yourself a little room for the drains and any swelling/tenderness you may have right after surgery.