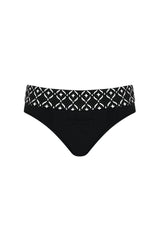 Swim Bottom 'Asian Garden High Waist' Black/WhiteStar
Size Range: 8 - 24
Seasonal Item. While supplies last.
To confirm if your size is available:
Select your size in the 'Size' menu above to confirm availability.
You will see a 'Sold Out' note to the right of the menu box instead of the price which indicates that size is no longer available to order.
Swim Bottom 'Asian Garden High Waist' in Black/ White star pattern  by Amoena
Swim Bottom Only. Swim Tops Sold Separately.
Geometric black and white star high waist swim brief, which can be folded down to mid-height
XTRA LIFE™ LYCRA® for long lasting fit and shape retention, with high chlorine resistance
Fabric suitable for all figures, with excellent UV protection
Material: 80% Nylon, 20% XTRA LIFE™ LYCRA®